08/2020: Cloud-based Geospatial Processing Services
- Extracting Features from High-resolution Imagery: An AI-based Processing Service

High-resolution digital imagery (satellite, aerial or drone-based) is increasingly used in local and regional environmental studies. But it is still challenging to extract high-resolution feature attributes (e.g. building footprints from imagery) for deeper geospatial analysis and detailed mapping.
Here we partner with BigDataEarth.com (Sydney, Australia) and use new AI and deep learning to extract features of the built environment (e.g. buildings, vegetation - trees or grass, water and roads) from high-resolution imagery for very large geographic regions.
The following figure illustrates an AI-based image analysis process which turns RGB input imagery into a predicted probability map suggesting where building roofs are likely located (red colours represent probabilities close to one). From the prediction map, generalised building outlines can be derived.
The next figure shows extracted generalised building footprints or outlines (in the form of minimum bounding box in this case) for an area in Sydney, Australia.

Processing Services on Offer
We offer efficient image processing and feature extraction service. You may provide your own high-resolution digital imagery for AI-based image analysis. As an option, we can help license imagery directly from ~10 international vendors who can supply sub-meter resolution satellite imagery. Typically, inputs are in GeoTIFF format (for raster imagery) and outputs in Shapefile format (for vector data).
Case Studies - Newcastle, Australia
The next two figures show integrated web and desktop mapping where high-resolution imagery, extracted building footprints, detailed contours and modelled surface water flow directions are displayed together, for a coastal area in Newcastle City Council, NSW, Australia. In this way important location information and insights can be mapped and communicated more effectively.
- Web mapping (click image for full resolution version)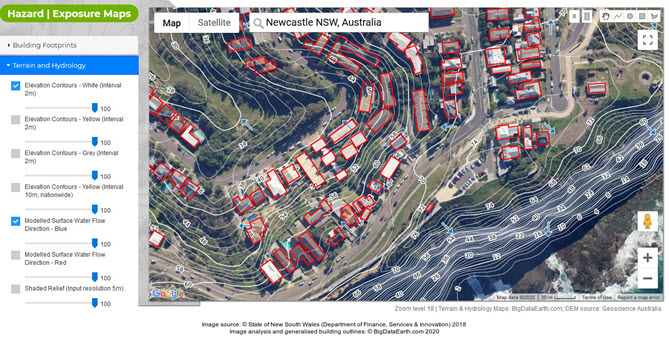 - Desktop GIS mapping (click image for full resolution version)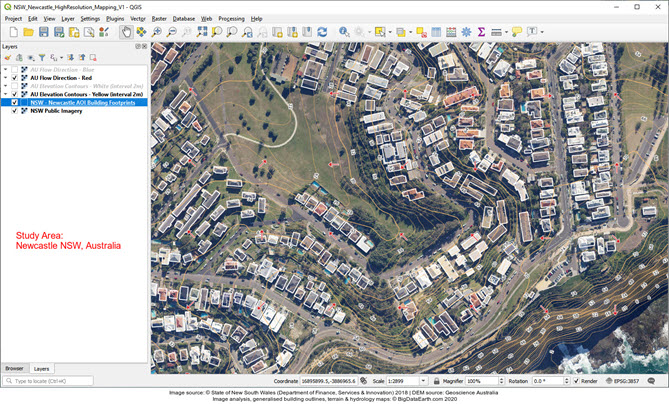 Please stay in touch if you are interested in more examples and information.